EVENT PLANNING
Events are complicated things.
Tough enough for professionals…really daunting for clients who have never done this sort of thing before. Lots of decision points…lots of moving parts. Every event is unique.

Let us make it simpler for you.
For starters, we can help you work your way through this process by providing information on many of the elements you have to consider in planning your event.

Below is some detailed information on a variety of event-related issues that can help you get started…click on the links that interest you, and spend some time browsing our help pages…and you can always call us at 316.612.4694 for advice on any subject:
Light hors d'oeuvres…heavy hors d'oeuvres…a complete meal…chef action stations…desserts…there are endless ways to get this done. Spending a little time looking at our catering menus, and our photo gallery should get you started. There are so many choices though, that it may be a bit overwhelming…so spending a little time visiting with us to sort through all this may be helpful.

There are many choices available here…and different ways to display and serve them as well. Visit our beverages page to learn more.
This is a complicated subject, with lots of options. Visit our bar page for a detailed explanation of your options.
Pick up. Delivery. Full Service. Buffets. Plated meals. British Service. Butlering. Welcome Bars…
The list of things we do as your caterer to help you take care of your guests goes on and on…and on.


Again…more choices to make. We have three grades of disposable serviceware, plus a complete line of china, silverware, and glassware.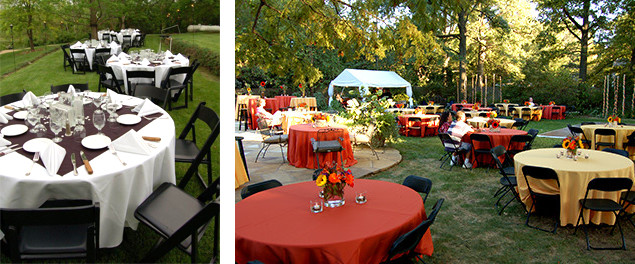 Using linens is a low-cost technique to add richness, color, and comfort to your event. We have many different colors in a variety of sizes.

Tables, chairs. Sounds simple…but again, lots of choices, and things to think about.


FOOD & BEVERAGE DISPLAYS
Make them as simple as you want…or as elaborate as you want.

Blue Moon Caterers will travel to any location to help you with your event.
We do a lot of things differently. This is one of them.
Important Odds n' Ends: Important, but non-glamorous stuff you need to know.
Costs: What does it cost to cater an event? An easy question…
Policies: Yes…we have them…but as few as possible.