SERVICE
Blue Moon Caterers will tailor the catering services we provide as necessary to meet your event goals. Below is a discussion of most of the choices available to you.
CLIENT PICK UP - We will pack up whatever you want and have it ready for your pick up at the time of your choosing. If you are transporting hot items, we will loan you one of our insulated transport boxes (at no charge) to maintain serving temperatures for your guests. We ask that you return it within 24 hours.

DELIVERY - Pick the time and place, and we'll be there to drop off your order.

SET UP AND LEAVE - With this service…we show up with everything you've ordered…set it up so that it's ready for your guests to dine…then leave. We do the hard part…then get out of the way, and let you enjoy the rest with your guests.

FULL SERVICE- Experience the freedom of having Blue Moon Caterers take care of everything at your event. All you have to do is...Enjoy! Below are some Full Service options:
For Events Serving Full Meals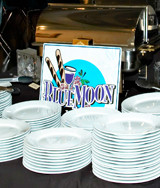 BUFFET SERVICE - Most Clients utilize a buffet to present a Blue Moon Caterers prepared meal to their guests. Its advantages are that guests get to choose exactly what and how much they want, the food quality is optimal, it's usually more economical, and the Buffet Line is a key socialization moment for many events. Buffets are perfect for casual events and events where guest interaction is important.


PLATED MEALS - Plated meals are elegant, and provide a more formal and sophisticated experience for your guests. Typically they more expensive due to the size of the on-site staff required…but for small events (50 or less) they can be just as economical as buffets.

BRITISH SERVICE - This is a unique system where each table is pre-set with serviceware, then delivered communal platters of all the dinner products to be passed around by the guests at the table. This system has the nice formal style of a plated meal, but encourages informal interaction among the guests at the table. Please be aware that many catered events cannot be handled this way as there are numerous logistical elements that must be in place to make this possible.
For Hors d'Oeuvres Events

DISPLAY SERVICE - Blue Moon Caterers can create a beautiful display to present the Hors d'oeuvres items of your choice.





BUTLER SERVICE - At catered events where guests are moving around and mingling, Butlering Hors d'oeuvres is an elegant and gracious way to serve your guests. Our service staff will carry small platters of interesting and delicious items of your choice around the event bringing hospitality to your guests. When this service system is selected we typically recommend serving items of an unusual nature or presentation as this heightens the level of entertainment value this technique provides. Often this technique is coupled with an Hors d'oeuvres display, which gives your guests a choice of how to be served.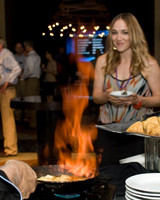 CHEF STATIONS - At catered events where presentation is important we can design one or more Chef Stations into the event plan to deliver an exciting, and entertaining dining experience to your guests. These can be employed whether you are planning a meal or heavy Hors d'oeuvres. We have developed many different types of stations that can be customized to your specific situation. (See our Chef Stations Menu).

DESSERT
DISPLAYED - A Dessert display can be an appetizing conclusion to the meal you provide your guests, and Blue Moon Caterers can create one as simple or elegant as you desire. We often complement it with a Coffee Display.

PRE-SET - At Banquets where the time allocated for Dinner is limited, pre-setting Desserts is a great way to shorten the time required for meal service...even at Buffet service events this can make sense for our Clients' event plans.


BEVERAGES
BEVERAGE STATION - Almost all events utilize a Beverage Station where guests approach and select their choice from what is available from an attendant. If there is a Bar at the event, the Non-alcoholic Beverages are served there as it is much more guest-friendly to have all the beverages at one location.

TABLE SERVICE - At upscale catered events, we often recommend adding Table Service where we offer Non-alcoholic Beverages to guests at the table
(typically Iced Tea and Water, but this can be expanded to other offerings as well). It is very common to pre-set tables with Ice Water at upscale events utilizing China serviceware. Additional charges apply for these services.
BUTLER SERVICE
- At events with Social Hours where guests mingle prior to dinner, Blue Moon Caterers can Butler Beverages, which adds a higher level of hospitality. Typically the beverages served are Specialty Drinks of some sort, either Alcoholic, or Non-alcoholic...or both.
OTHER

There are many other ways Blue Moon Caterers can be of service to help you make your event Perfect. We are often the "glue" that pulls everything together at an event. Here are some of the additional things we can do to be of service.

DINING ROOM SET-UP - It is very common for Clients to handle setting up the dining room (table cloths, table decorations, etc), but in situations where this isn't possible or appropriate, Blue Moon Caterers can handle all these details for you.

BUSSING AND DINING ROOM CLEAN UP - This is the least glamorous thing we do, and probably the last thing most clients want to handle themselves. Let us take care of this for you.

CAKE CUTTING - Cutting a multi-tiered Wedding Cake is a lot more complicated than most people imagine. Let our pros handle this for you.

CHAMPAGNE TOASTS - Need to get Champagne to 200 people in 5 minutes or less? Better have Blue Moon Caterers handle this little detail.