BAR
If you have interest in serving alcoholic beverages to your guests, Blue Moon Caterers is licensed, and capable of helping you do this. There are two ways to accomplish this:
1. Blue Moon Provided Alcohol
Blue Moon Caterers will serve your guests whatever alcoholic beverages you decide are appropriate (more on this below) from stock we bring to the event, and
charge either the Client (we call this a Host Bar), or the Guests (this is called a Cash Bar).
2. Client Provided Alcohol

Our Bartenders will serve your guests alcoholic beverages of their choice from what you bring to the event.
Within these two methods, there are a great number of choices to make, and techniques that can be employed to make this work best for your circumstances. Below is a discussion of many (but not all) of these (this is the part of the catering event plan that has the most options, and thus, can be a very complicated matrix of choices):

WHAT TO SERVE
While your guests will appreciate (and in many cases expect) the option of having alcoholic beverages, we have learned that at a catered banquet or reception setting, most are not particularly demanding as to what type of alcohol is served. Rather than approaching the bar and requesting the beverage of their choice...they typically approach, ask what's available, and happily choose from the options available at that moment. Given that, it's up to the client to choose what to make available. Your choices (whether provided by Blue Moon Caterers or the Client):
Beer - Overall this is the most popular and commonly served item. Keg beer makes sense at many catered events (typically events with 150 guests or more), and is a very economical option. Bottled beer is a bit more expensive, but offers the ability to offer variety and is more appropriate for events of less than 150 guests. Blue Moon Caterers does not offer canned beer but is happy to serve it if the Client opts to bring canned beer to an event.

Wine - This is very popular with most groups, and typically is poured from bottles. Occasionally, clients will opt to bring boxed wine, a very economical way to serve wine.
Spirits - At many catered events, spirits make sense, and these can be anything the Client prefers. Blue Moon Caterer's standard selection consists of Scotch, Bourbon, Gin, Vodka, and Rum, but we can customize this to meet your event goals. Catered Event Bars with Spirits are more complicated, and require a variety of mixers, garnishes, equipment, and staff expertise that typically make them more costly to provide.
A popular and more economical way to offer spirits is with an "Edited Spirits Bar". This is where one or two specific spirits are offered with appropriate mixers. This simplifies the process, lowers the cost, but still gives variety to your guests. Bourbon and Vodka are the most popular spirits currently…and many clients are opting to serve these two choices…or others they know to be popular among their social circle.
Specialty Drinks - Catered Event Bars frequently include specialty drinks that are appropriate to the occasion (eg., Margaritas with Mexican Food; Blue Hawaiians at Luaus; Mimosas at Brunches; Frozen Bellinis with Italian food...you get the idea), and for many Clients, these offer a more economical and entertaining way to offer spirits to their guests.

The list of options here is almost limitless, and offers a creative way to add entertainment value to your event. Special colors! Special names! Have fun!

Other - Champagne; Shots; Liqueur (Example: Bailey's and Kahlua served with coffee at a dessert display). These make sense for many events.
HOST AND CASH BARS
Sales Minimums for Host and cash Bars
When Blue Moon Caterers provides a Host or Cash Bar we require the Client to guarantee a minimum sales amount on each type of Bar. If the sales at the Bar fall below the minimum, the Client makes up the difference. These vary depending on what is being poured:
Beer, Wine, Spirits- $400.00
Spirits- $300.00
Beer, Wine- $200.00
Combination Host and cash Bars

A Client can reduce financial exposure to open ended consumption at the Event Bar by employing a number of techniques to combine Host and Cash Bars:

Chit Bar - The host issues "Chits" to the guest (1 per guest; 2 per guest...as many as the host desires). Each Chit is good for a drink at the Bar. Chits can be any mnemonic device...a ticket, a marble, a Hershey's Kiss...anything. When the guest has no more Chits, he/she can buy a drink for cash. The Client only pays for Chits redeemed at the Bar.

Hour Glass Bar - With this technique, the Client purchases drinks in advance (the price per drink varies based on what is being served). Each pre-purchased drink is represented by a marble that is displayed in a vase on the bar top. As each drink is served, a marble is removed by the bartender. Once the vase is empty, the bar becomes a cash bar…guests buy drinks with cash. With this method, Clients can control exactly how much they wish to spend on the bar. An added benefit to this method is that the Client can hand out marbles in advance to select guests to ensure their bar needs are met during the evening.

Switch from Host to Cash Bar at pre-determined moment - Examples: Host bar during Social Hour...then Cash Bar; Host Bar until 8 PM, then Cash Bar; Host Bar until Client says "Stop", then Cash Bar.

Simultaneous Host and Cash Bar - While we're not fans of this technique, we have created Catered Event Bars where we serve some items that are complimentary, and some that require cash from the Guest. Example: Beer and Wine are complimentary (paid for by Host), and Spirits are Cash Bar. For smaller events, this technique often does not work out as intended, as the majority of guests will choose complimentary items, and the Client ends up paying a large portion of the Sales Guarantee on the Cash Bar portion of the Bar. For larger events this technique can be successful.
BARTENDING
Bartending

Blue Moon Caterers is happy to offer professional Bartending services for our Clients. The number of Bartenders required depends on the number of guests in attendance, what is being served, and other factors. Bartenders are billed at $40.00 per hour, including set up and tear down (typically 1.5 hours at most events). We often are able to utilize Bar Backs ($32.00 per hour) at catered events where a second or third staff person is required.
SERVICEWARE
At catered events where Blue Moon Caterers provides the alcohol, our drink pricing includes appropriate disposable cups for each type of beverage served:
Beer and Cocktails - 12 oz Clear Plastic Cup
Wine and Champagne - 9 oz Clear Plastic Cup
Spirits and Frozen Drinks - 10 oz Clear Plastic Cup
Shots - 1.5 oz Plastic Shot Glasses
Blue Moon Caterers offers a complete line of Bar Glassware for events where this is an important element. Glassware rents for $1.15 per glass in lots of 25 or 36.

Wine Glasses / Shot Glasses
Champagne Flute / Coolers
Cocktail Glasses / Water (or Tea) Glasses
Martini Glasses / Coffee Cups
DRINK PRICING
Blue Moon Caterers offers drinks for Host or Cash Bars at these prices:
Soft Drinks (if not provided otherwise), and Mixers - 3.50
Bottled Beer (Domestic, Import and Craft) - 5.50
Cocktails (Blue Moon Call Brands) - 6.50
Cocktails (Premium Brands) - 7.50
Cocktails (Super Premium Brands) - 8.50
Margaritas, rock - 6.50
Wine - 6.50
Unlimited Consumption - Call Brands (per person) - 19.00

BLUE MOON CATERER'S BEVERAGE BRANDS

Blue Moon Caterers Bar Brands (other Brands are available by special request)
OTHER BAR SERVICES
Bar Support Services
At catered events where clients provide the alcohol, there are numerous tasks associated with this that are the responsibility of the Client: Planning what and how much to purchase, providing serviceware, ice, and display equipment, plus pre-chilling and transporting the products to the Bar site.

Blue Moon Caterers can provide the services listed below to help make your Bars better/easier:

Cups
Ice
Pre-Chilling (including Coolers)
Transporting
Display Equipment

per guest 0.40
per guest 0.40
per guest 0.40
per guest 0.40
26.50
Mixers, Condiments, Garnishes, tools, cups, ice for
Spirits (at Bars where Soft Drinks are not part of
the Non-alcoholic Beverages)


per guest 2.80

Mixers, Condiments, Garnishes, tools, cups, ice for
Spirits (at Bars where Soft Drinks are provided in
Non-alcoholic Beverages)


per guest 2.10

Keg Beer
Keg Beer, Domestic 1/2 bbl. (180 glasses)
Keg Beer, Craft/Import 1/2 bbl. (180 glasses)
1/6 bbl. (60 glasses)

250.00
320.00
220.00
Reserve Keg, Bud Light, (limit one per event)
1/2 bbl. if untapped
1/2 bbl. if tapped

50.00
240.00
(all Keg prices include barrel, ice, taps, cups, transportation)
Bottled Wine (includes cups; pre-chilling)
Champagne (includes cups; pre-chilling)

per bottle opened 26.50
per bottle opened 25.00

Important Note: Clients should give serious consideration to taking advantage of Blue Moon Caterer's Reserve Keg Program. $30 is cheap insurance to make sure you don't run out of Beer during an event. Similarly, when Blue Moon Caterers provides Wine by the bottle, we bring a large supply, so you can relax, knowing that you will not run out...nor will you have any leftovers...you pay only for what you use!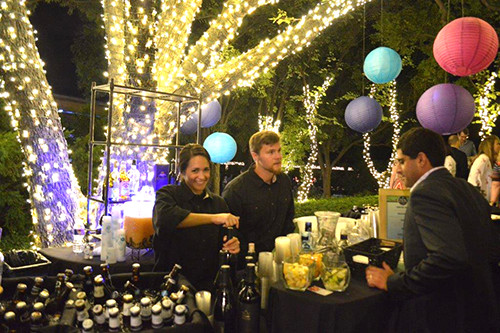 Frozen and Specialty Drinks
Frozen Beverage Machine

Frozen Alcoholic Beverages, per batch (approx 80 drinks)

Frozen Non-alcoholic Beverages, per batch (approx 65 drinks)

Rocks Margaritas, per gallon (approx 15-20 drinks)

Specialty Drinks - Unique and delicious Martinis, Cocktails,
and other creations to add excitement to your Bar, per
gallon (approx 15-25 drinks, depending on glass size)

215.00

165.00

105.00

115.00

110.00-165.00
BAR DISPLAY OPTIONS
Blue Moon Caterers has two Display Options: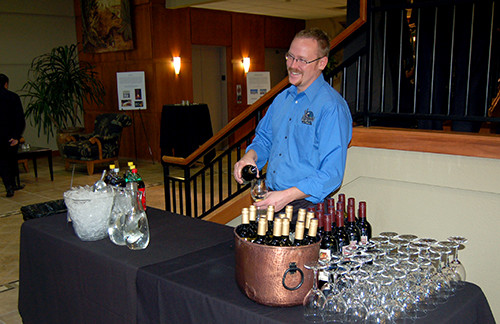 Simple - plain...but gets the job done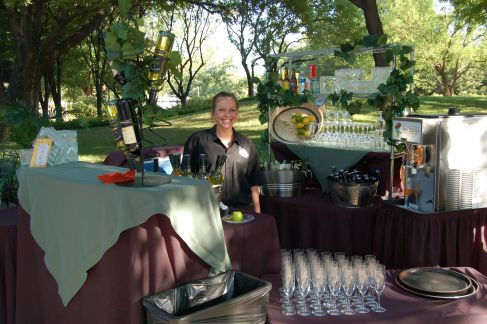 Elegant - looks like a real Bar!
BLUE MOON CATERER'S BAR POLICIES
Over Consumption - Many Clients are concerned about this. Our experience is that it is a rare occurrence where a guest will consume alcohol beyond a reasonable point. We will "cut off" people, when, in our judgment, their behavior is such that it is creating a problem for other guests. But, our normal practice is to first attempt to find another guest who knows the problem guest and is willing to manage the situation.
Under-aged Consumption - We will never knowingly serve any guest less than 21 years of age, and will "card" any guests who appear to be under 30 years of age.
Tip Jars - It's a normal practice at catered bars for staff to place tip jars on the bar top, and Blue Moon does this as well. If you would prefer we don't have them, please let us know, and we will remove them.